As I venture further into dividend growth investing and read the thoughts of those more experienced than myself, I have been focusing more on company quality and dividend safety.
In early February of 2016, I read an article penned by David Van Knapp on the Daily Trade Alert website. I have followed Dave's articles for some time, both on DTA and on Seeking Alpha. I enjoy the color coded and/or number weighted criteria lists that he often uses to help evaluate a dividend stock.
In the February article, Dave added another tool to his belt that provides a dividend safety rating for over 800 (and growing) dividend stocks. SafetyNet Pro is a subscription service that Dave is now using, and I have decided to take it for a test drive.
SafetyNet Pro is offered for a very reasonable $5.00 per month. Each of the stocks in their database receives a letter grade for dividend safety between A and F ("E" is not put to use). The rating scale is as follows….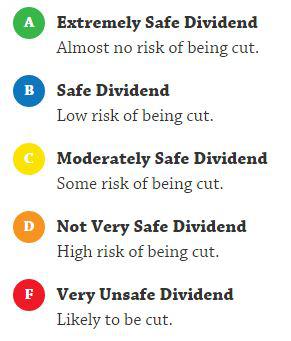 I was pleased to discover that of the 29 dividend stocks I hold, only two were not covered. Perhaps they will be some day. I was a bit surprised, in a bad way, by a few of the ratings. I hope to write another post that reviews the site's ratings on my holdings, but it seems that some of my stocks may not be as safe as I thought.
The SafetyNet service includes monthly update articles with thoughts on dividend investing as well as rating changes. Email alerts are sent as needed. For the price, I don't feel that I'm risking much in checking out this service, and I like what I see so far. At any rate, I thought it might be worth your while to take a look and decide for yourself. If you do so, please post your thoughts in the comment section. Thanks for reading.
Disclaimer: This article is not intended to provide investing advice or guidance. I am not affiliated with, nor do I receive any consideration or compensation from the companies/websites mentioned in this article.